Compactors
Fiber Compactor Type FK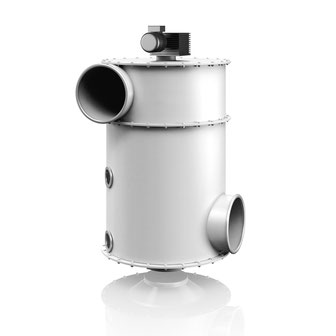 The separating and compacting units of type FK are perfectly suitable for different kinds of fibers, paper residue, edge strips, foil shreds and different shredded plastics.
The solid particles are extracted from the production process by suction, separated from the air stream and deposited in bags, containers or silos.
Functional Description
The particle-laden air stream enters at the top of the housing through the tangential inlet, flows through the perforated cone and is discharged through the outlet. The collected material and waste is deposited on the inside of the perforated cone.
The material is continuously scraped off and compacted by a plug screw. The pre-compacted material is pressed against a diaphragm at the bottom outlet opening.
With the pressure of the following material the diaphragm opens and the material is discharged pressure-free and countinuously. This continuous operation of the units prevents fluctuations in the extraction system.

Advantages
Separator and compactor in one unit
Continuous operation

High material and air flow capacity

Sturdy construction

Pressure-free discharge

No fluctuations in the extraction system

Click here to get to the download area for more product information.