Compactors
Compacting Power Screw Type CPS, SKP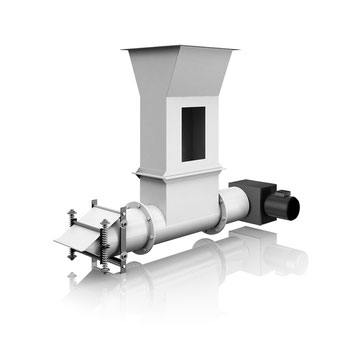 Compacting and discharging of fine dusts and short fibers
The compacting power screws are used as discharging units of dust and fiber separators like cyclones, bag filter systems and pleated element filter systems.
It allows dust free product discharge of fine dusts and materials with short fiber fractions.
Functional Description
The separated material is captured by a horizontal screw and discharged through the outlet in the front. Optionally the supply can be supported by an agitator which secures consistent charging of the screw and prevents solid bridges.
Material compaction takes place, depending on the chosen discharge unit, by means of spring leaf or flap with spring tension. The screw is driven by a special helical gear motor. The agitator is connected with the motor through chain drive.
To secure a constant isolation of the compactor to the surroundings, the screw has to be filled with material at all times. For observation purposes the device is equipped with a capacitive level sensor.
Advantages
Dust-free material discharge with compaction ratio up to 5:1
Material discharge up to 5000 Pa pressure difference
Continuous operation, therefore no pressure fluxion in the system
Large material flow capacity
Consistent filling of the plug screw through built-in agitator
Sturdy construction

There are two different kinds of discharge units:
Into bags:
The compacted material is discharged in plastic bags or Big Bags. If overfilled it is discharged to the front.
Into boxes:
For the discharged material either containers or rigid boxes are used.
Click here to get to the download area for more product information.